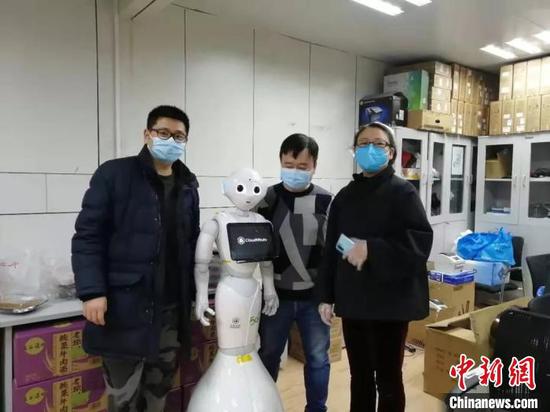 A 5G-based medical robot is put into use at a hospital in Wuhan, Hubei Province. (Photo/China News Service)
Special: Battle Against Novel Coronavirus
(ECNS) — Two hospitals in China's Wuhan, the center of the novel coronavirus epidemic, have put into use two 5G-based medical robots respectively, which will greatly reduce cross-infection among staff and patients.
The robots at Wuhan Union Hospital and Tianyou Hospital can assist medical staff in clinical consultation, disinfection, cleaning and drug delivery.
Both hospitals are set to treat pneumonia patients with novel coronavirus infection.
One medical robot provides epidemic prevention information while the other, a disinfecting robot, distributes medicines or conducts cleaning tasks according to a prescribed route, saving labor costs, improving efficiency, and reducing the risk of cross-infection in the ward.
China has employed various methods in combating the novel coronavirus epidemic.
Two makeshift hospitals, Huoshenshan and Leishenshan in Wuhan, with scheduled 2,600 beds in total for the treatment of the patients infected with the virus, have been completed and put into use. And more module hospitals are under construction.
The city also plans to convert another eight existing venues, including gymnasiums, exhibition centers and sports centers, into hospitals.
By Tuesday, Hubei Province had reported 16,678 confirmed cases of the novel coronavirus infection, with 479 deaths and 2,520 cases in severe or critical condition.